Like, Provo, Utah is our current Scene, Man,
Between last Year's and next Year's groovy Time Span
Dear Family and Friends . . .
And Those to Whom this Note Extends,
Whose Essence Time and Space Transcends:
We thought we'd lay on you today some words of Love and Cheer,
Because we like your Company and wish that you were Here,
But also… to aggrandize all the Places we have been this Year.
It's 12% an Ego Thing (though many estimate the Ratio much higher),
While 88% of it should entertain (at least that is the Goal to which we here aspire).
[Disclaimer finished, now I'll try to haul this metaphoric Ox out of the Mire]
The finest Thing for Marianne—promoting her to newfound Sanity—
Was being able to *ReTiRe* and thus regard with Equanimity: Humanity.
Since she has so much Time to bake, we're starting to resemble two huge Manatee.
Bright Paris in the month of April is a Revelation and a Dream,
But I arrived in chilly, cloudy March for Livre de Paris, a Book Fair Scene,
Accompanied by an ancient Member of my High School Wrestling Team
(While I, of course, am youthful yet with sparkling Eyes agleam).
In June I flew to Germany to give a Talk—about a Poet who's Mongolian
But writes in German—at an International Post-Modern Languages Symposium:
And that I did, but also visited my German Relatives, and it was nice to see 'em.
In Nuremberg I skipped the Nazi Rally Sites to see the German Gingerbread Museum.
Returning to my lovely Wife, I hopped, despite my Jet Lag, back upon a Delta Jet
With her to fly to Oregon to see her Transylvanian-Danish relatives (you bet):
In Bandon, on the windy, surf-tossed Coast we found the Ocean Water wet
And reconnected Niece to Aunt, and then we ate and laughed and got upset
When it was time to say Good-Bye, to leave Tsunami Zone and kin we'd met.
On July 4th our Hotel Room faced Fireworks and Sunset, Kelp and Whales.
Then on through Traffic Jams we jammed to see Weird Portland's cool Details.
Scroll forward now One Hundred Days, as we fly off to Amsterdam, (not Destiny
But rather just an Airline Hub), from whence we further flew to Tuscany,
Because a sojourn with my Wife in Florence and Environs seemed so husbandly.
The reasons for our Trip were many: Celebration of our Wedding Day
A Quarter Century ago; a Chance to stretch our Legs and journey far away;
But Reason Number One proved fun: to have an exquisite, extended Stay
With Marianne's dear Friend from College Days at an Estate of Gentle Ease,
A Bed and Breakfast overseas, set snug amidst a Grove of Olive Trees.
For one full Week we lived like Potentates beneath the beneficent Tuscan Breeze,
The Hills alive with Life—Italian lively Life—and Tables stacked with Cheese.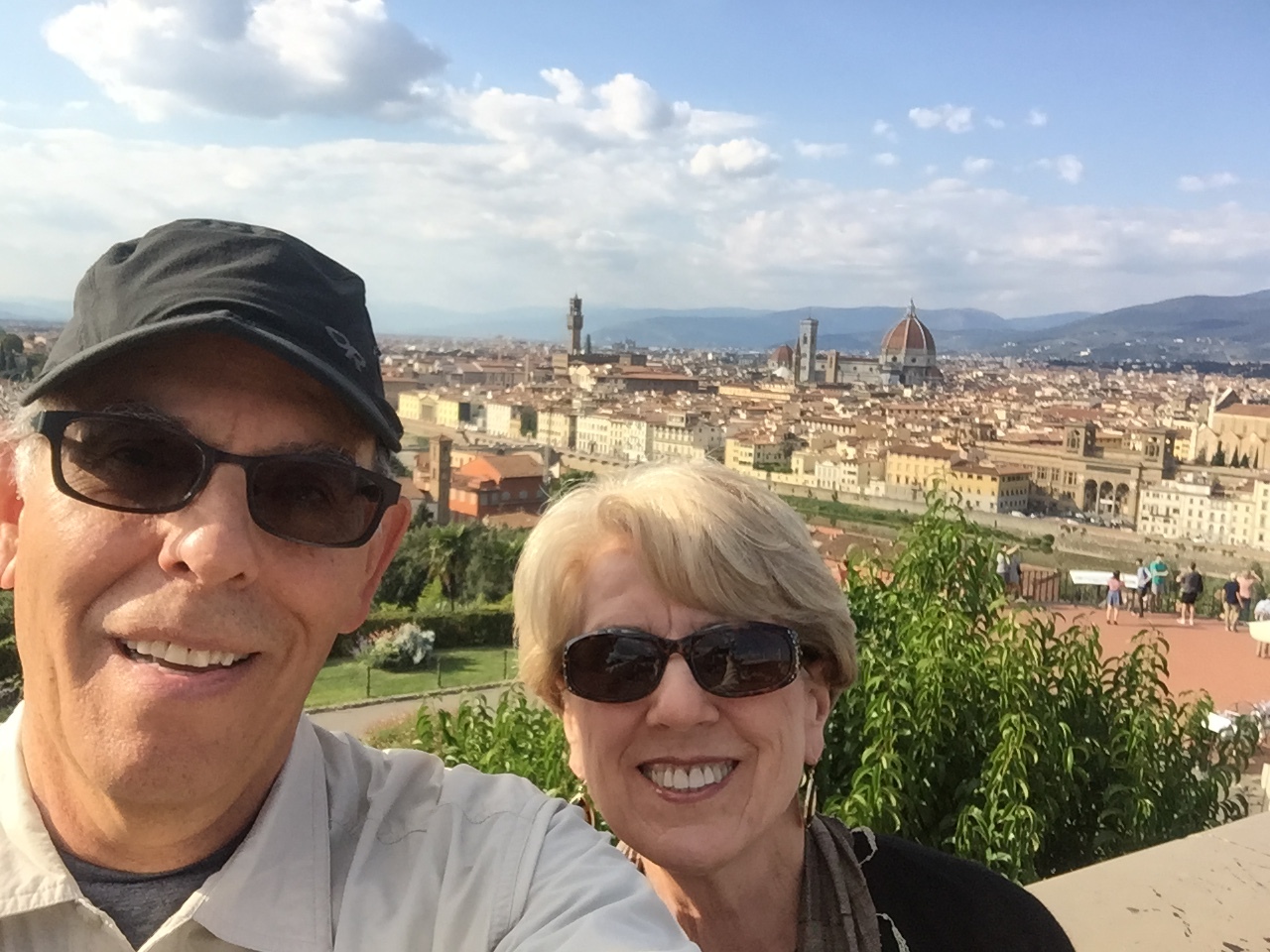 Except for one IKEA store—which vended all the meatballs you could ever squeeze in—
The Highlight of our Tuscan stay was Cinque Terre in the Autumn Season.
Such a gratifying Mix: Tyrrhenian Sea and Towns on Cliffs (Terrain uneven).
Monterosso al Mare, Vernazza, Corniglia, Manarola, Riomaggiore . . .
Are Sounds of Towns where we made Rounds of nothing but pure Glory!
There's much more to embrace . . . but lacking Space, we have to end that Story.
Thru'out the Year, yes, now & then, we chilled w. Children and their Children:
Daniel, Sam and Caleb; Haven, Devin, Derek, Hallie, Dylan;
Rose and Aaron; Joseph, Tom, Elijah, Eden; names I struggle hard to fill in,
Lisa, David; Juliana, Mizo; Kristin, Mikle; Tiffani and Mike; almost a million.
Such Offspring sprang (with Help) from me, Counter-Malthusian Villain.
Oh, wait, there's one more Thing to tell: we've built a new, swank Deck,
A Terrace that we built with Tools such as a tried and true Bank Check.
The Deck is situated right behind our House and is connected at its Flank,
Which might remain connected if that Check should clear the Bank.
[Here come the Final Paragraphs, which give us Time for still more Gaffes]
- Since we are non-combatants in a questionable War on Christmas,
We wish you Merry Christmas from both Me and from the Mrs.
- Because we have no chronic Moniker for Chanukah
We hope to High Harmonica the Holiday is fond for ya.
- Don't be agnostic when it comes to noticing the Winter Solstice,
But also: do not brand this Time of Year too cold, dark or atrocious.
- Though half a Year remains until next Ramadan,
We hope for you that, when it comes, it proves to be right on.
- Yet on the other Hand, if you are celebrating Kwanzaa,
We hope that you outdo yourself: have an Extravaganza.
- If you enjoy a different Tradition marching to some ancillary Plan . . .
We wish the Best of Your Whatever! — Dick and Marianne.
P.S. #1:
Some Hacken Quirks you'll notice in this Letter are the capitalized Nouns,
Enhancements I've included that may seem a little out of Bounds.
And yet: it was the 18th-Century Rage in all colonial Towns:
It's in the Constitution—constituting (unamended) quite strong Usage Grounds!
P.S. #2:
The bolded phrase "our Trip", behaving as a sort of cyber-sync—
Found floating in the word-soup up above (and here)—contains a link
That takes you (if you're willing) to the Internet to see yet more of Italy, I think.