Carolina Hachen (née Galka) --> Nephi Rudolph Hacken --> Robert Hacken --> Various children --> etc.
Robert ("Bob") Hacken
Bob Hacken, son of Nephi R. Hacken and grandson of Carolina [Galka] Hachen: in 2006 with his wife Justine ("Kitsie") [Parker] Hacken.
Bob and Dick Hacken
The two brothers, Dick (left) and Bob (right) around 1950.
Bob & Dick, 1953
This is the kind of picture you don't want your friends to see... playing clowns on Dick's 8th birthday in 1953.
Hacken Children in 1956
Camping in the backyard in 1956. From the left: Sue, Bob, Carolyn, Dick, Joan.
Hacken & Ogilvie Reunion, 1959
Leola Hacken's sister, Cleone Ogilvie, and both families in Liberty Park, Salt Lake City. Bob is on the back row on the left, Dick on the right between Grandpa and Grandma Jones.
Bob & Kitsie as Young Marrieds
Early 1970s: Bob and Kitsie with a couple of their children (Zsana standing, J.D. in arms).
On the Rhine, 1990
While seeing the sights with Dick in 1990, Bob and Kitsie cruise along the Rhine River.
Last Great Hacken Descendants Reunion
In 1992 near Sacramento, the family got together with children and grandchildren. Bob and Kitsie are on the left side near the front (look for pink, red and yellow).
Bob & Kitsie's Children
Children and a couple of spouses, late 20th century.
Up in the Mountains
Bob and Kitsie at Mount Rainier, late 20th century.
In the Austrian Alps
Bob and Kitsie at a Hacken-Galka reunion near St. Gilgen, Austria, in 2006.
Bob Meets Marianne's Relatives
In 2006, Bob has a chat with one of Marianne's Siegmund relatives in Creglingen, Germany (outside the world's most deluxe Thimble Museum)!
At the Orangerie in Weikersheim
Bob and Dick inside the greenhouse (Orangerie) at Weikersheim Palace in 2006.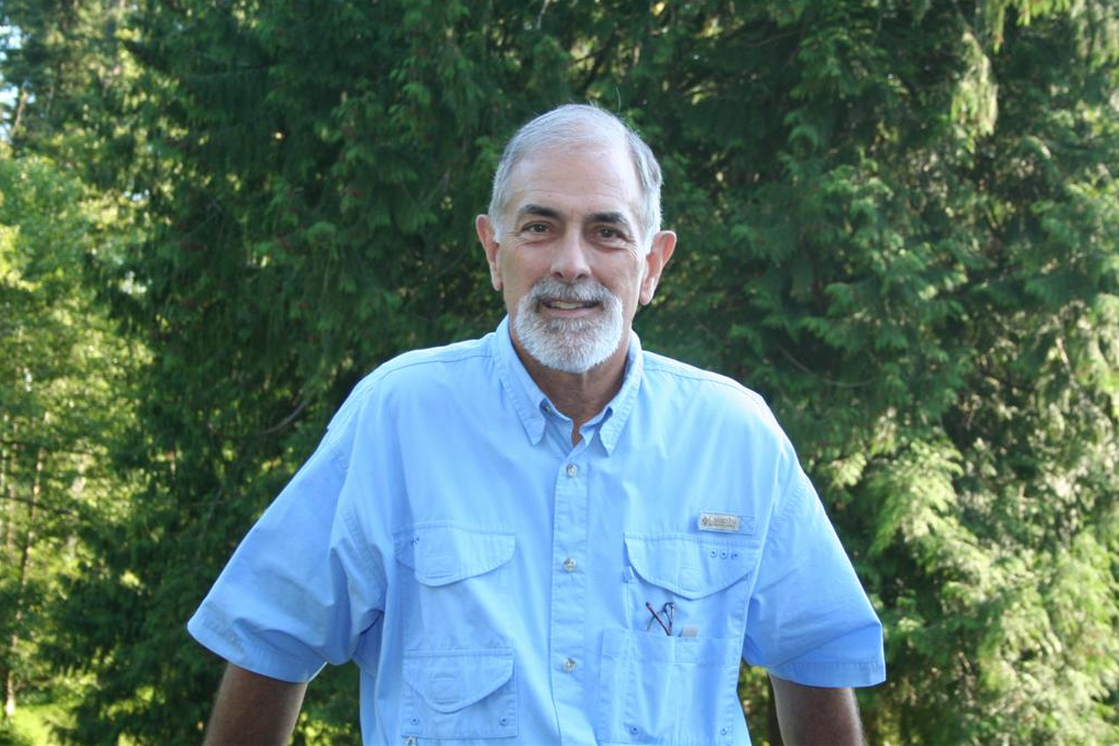 Sigmund Freud Look-Alike
Bob looking very Freudian in July of 2008.
Basecamp of Mt. Everest
During an extended Nepal trek in 2010, Bob and Kitsie made it to the basecamp of Mount Everest.
Train from Fez to Tangier
In 2013 Bob and Dick visited Casablanca, Rabat, Fez and Tangier in Morocco.
Wearing a Fez in Fez
We stayed at the Palais Faraj in Fez, with a view across the Medina.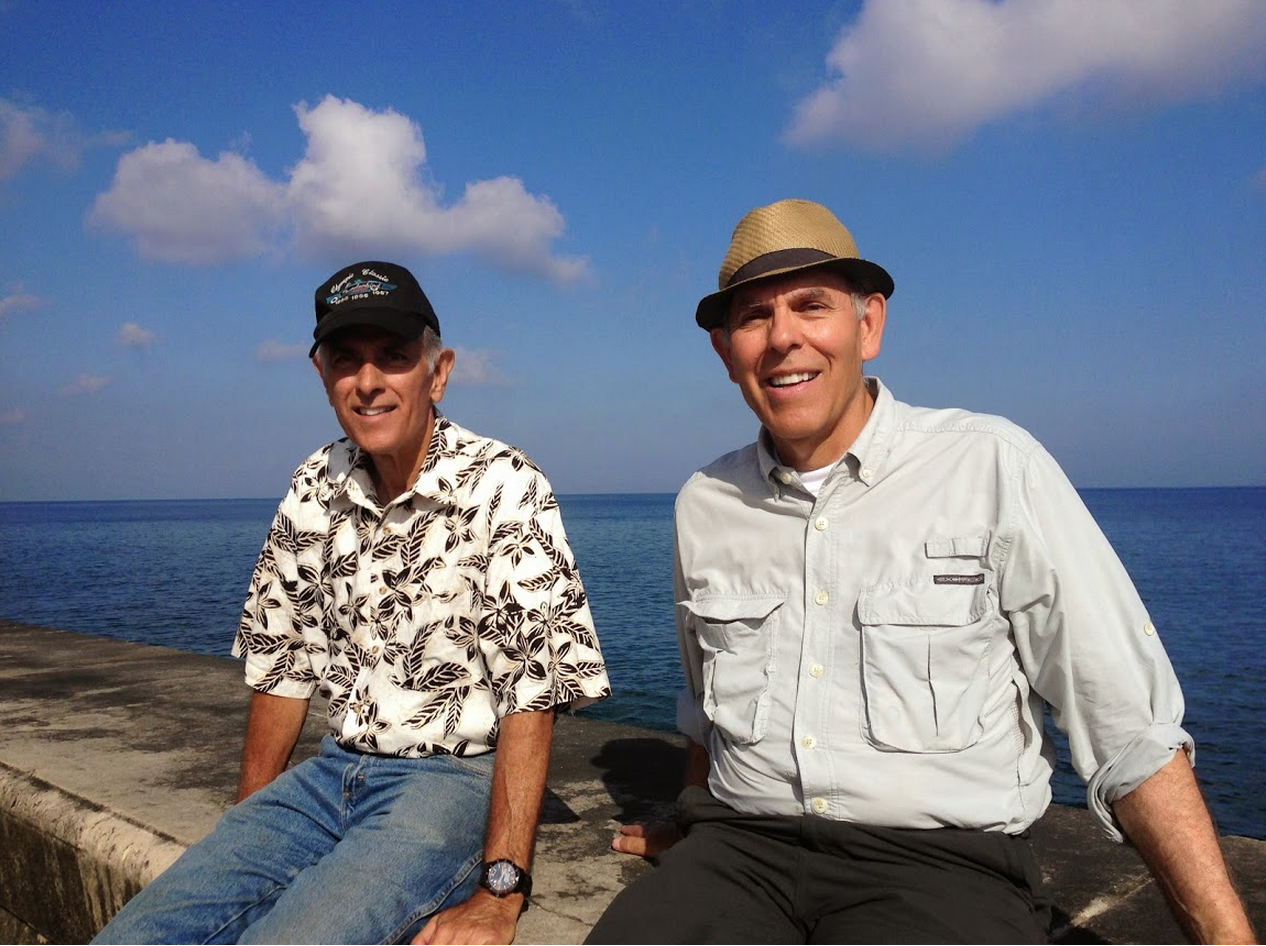 On the Seawall at Havana
In April of 2014 we were in Havana, here sitting on the Malecón (seawall).
1949 Red Buick Convertible
Bob loves old cars, and Havan is a mecca for dated American classics.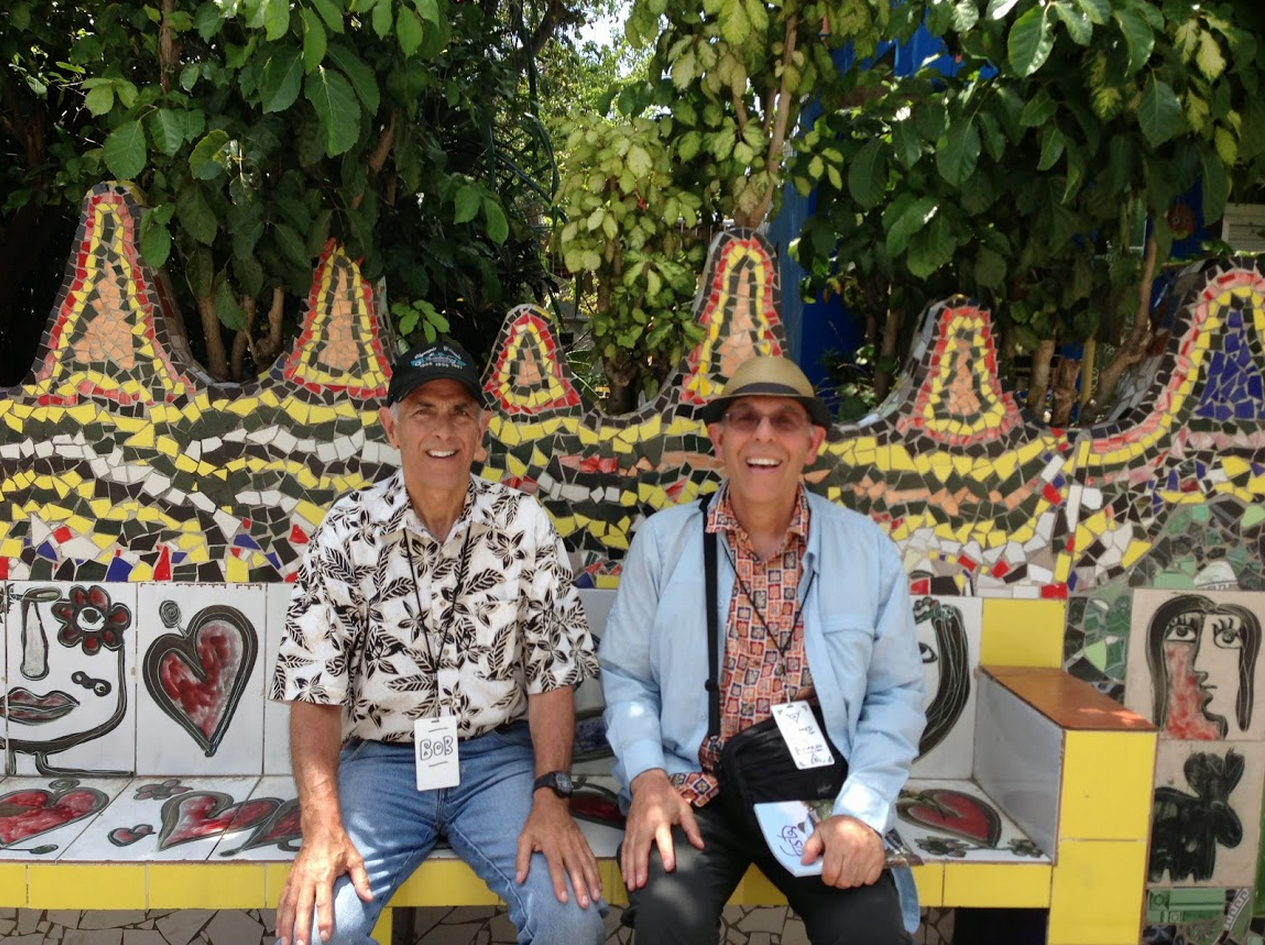 Bob and Dick at Fusterlandia
The sculptures and decorated benches of José Fuster's neighborhood of Jaimanitas (a suburb of Havana) were colorful and fun.
Carolina Hachen (née Galka) --> Nephi Rudolph Hacken --> Richard Hacken --> Various children --> etc.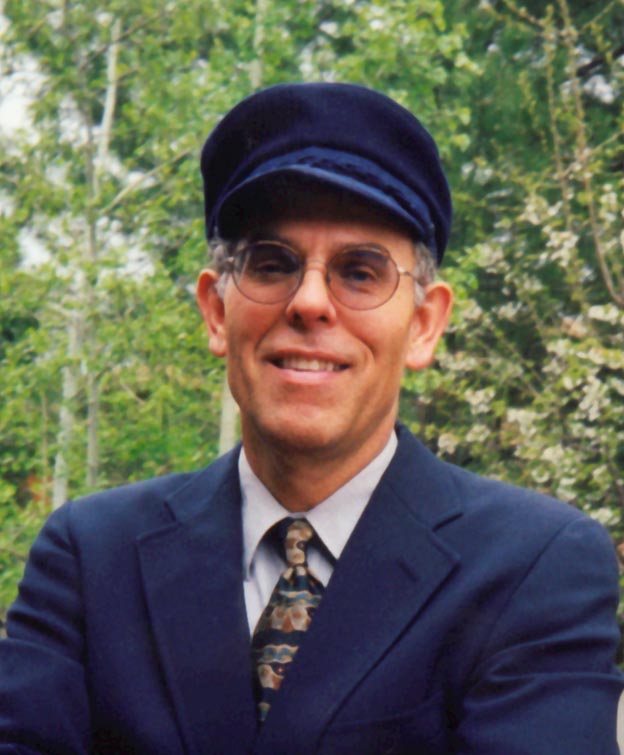 Richard ("Dick") Hacken
Standing in front of aspen trees behind his home in Utah.
September 1945
Dick at 6 weeks old in the arms of his mother, Leola [Jones] Hacken.
December 1945
Four months of age, in a photo made in Sacramento for the grandparents back in Utah.
In Uniform?
This picture, from 1946, is the only time Dick ever smiled with a military uniform on. And the only time he knows when he had a military uniform on (except in Boy Scouts, perhaps).
Freaked Out on Pony, May 1946
What cruel things parents do for the sake of a memorable picture. You can see the fear on Dick's face.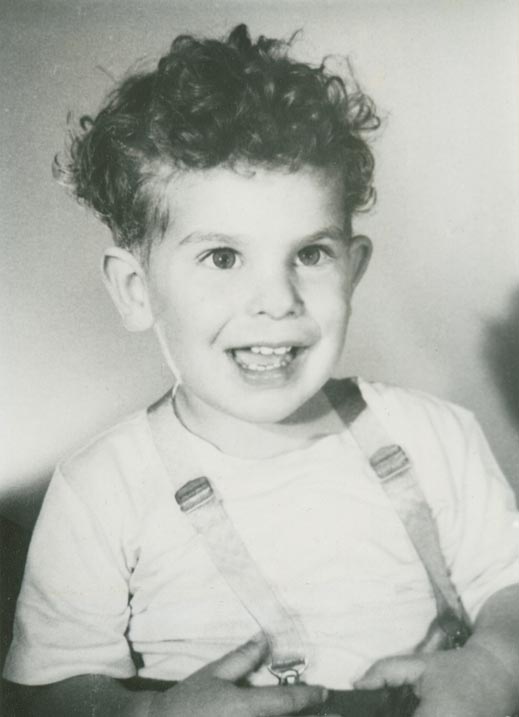 Curly-Headed Boy
Dick had lots of curls on top right up until he went bald.
Dick Growing Up in Suburban Sacramento
Life was good in the 1950s, certainly better than his parents' growing up in the depression. Still, this shirt was homemade by Dick's mom.
Birthday Party, 1953
This is not the kind of picture you want to show your friends: Bob and Dick on July 28, 1953, dressed as clowns.
Backyard Campout, 1956
From left to right: Sue, Bob, Carolyn, Dick and Joan. The 5 Hacken children.
Jones & Hacken Reunion, 1959
In Salt Lake City's Liberty Park, in 1959. Dick is on the back row towards the right, between Grandpa and Grandma Jones.
Running the "High" Hurdles in "High" School
On the track team, Dick did the "High" Jump (5' 10") and the Long Jump (21' 6"). He was also on the wrestling team and Sacramento All-City linebacker in football.
Oh, Bearded One
In August of 1963, after graduating from Encina High School, seemed like a good time to grow a beard.
Missionary to the Presumed Heathens of Bavaria
In 1965, preaching to the fields of Fürstenried, a suburb of Munich that now of mostly apartments as far as the eye can see.
Lord of the Manor, January 1966
Dick overseeing his holdings at Nymphenburg Palace in Munich.
Dick's First Wife Sara
In 1969: Sara holding firstborn son Douglas James Hacken, who died of meningitis at the age of almost 3.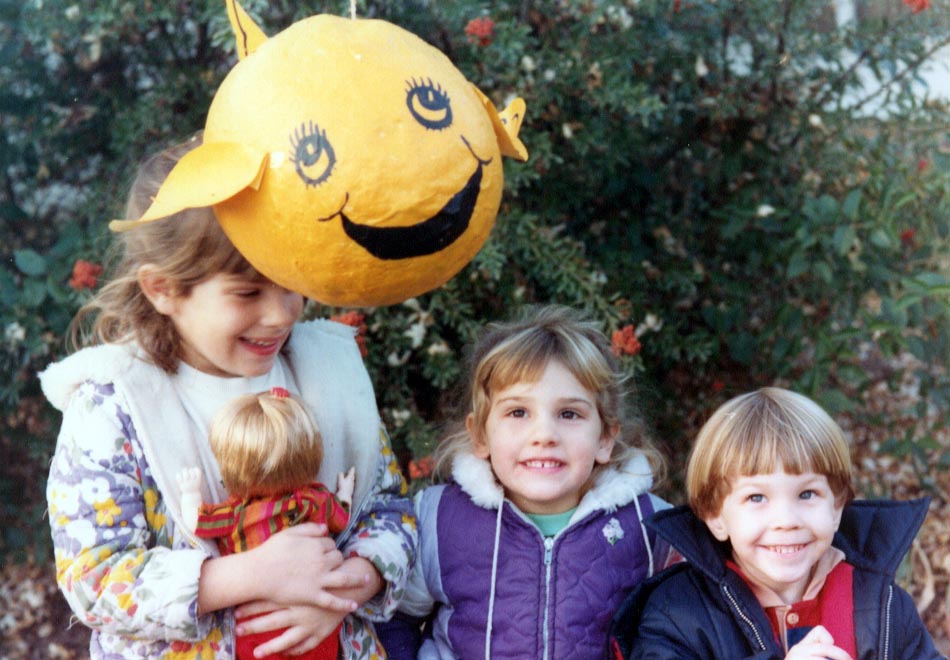 Piñata Party
From left, Dick and Sara's children, Kristin and Lisa and Sue [Hacken] Thornton's son Christian.
Heading to Corvallis, 1977
Preparing to leave Davis, California, site of graduate school at UCD, to take a teaching position in German at Oregon State University. Lisa at the left and young Michael in Sara's arms.
Hacken Family, 1980
In Lawrence, Kansas, where Dick was teaching at the University of Kansas. From left: Kristin, Sara, Lisa, Michael, Dick. Juliana was about 2; I doubt she took the picture.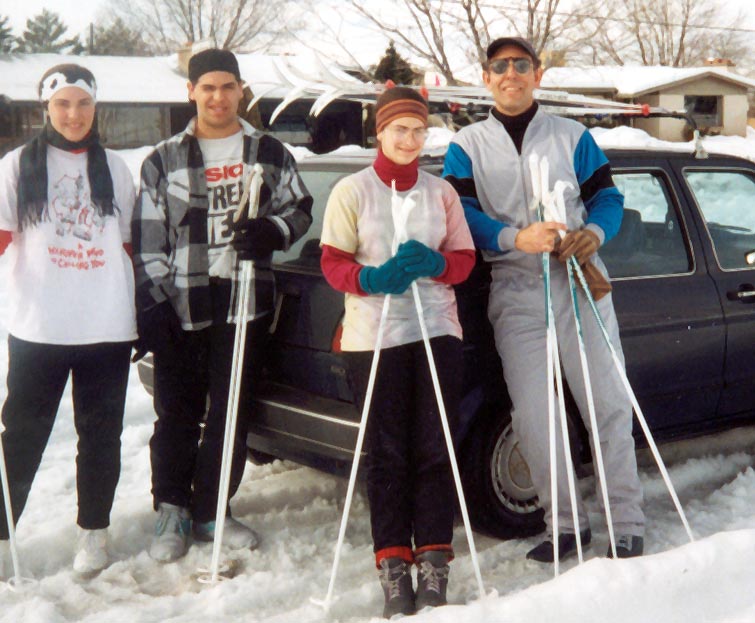 Cross-Country Skiing in Utah, Late 1990s
At this point employed at BYU in Provo, Utah and married to Marianne Siegmund. From left: Lisa, Michael, Juliana and Dick.
Wolfgangsee (Lake Wolfgang), Austria, 1995
Dick and Marianne visiting the country Marianne had moved from 43 years earlier.
Sacré Coeur, Paris, 1999
Seeing the sights of Montmartre with son Michael in 1999 after meetings in Germany and meeting Scheffler relatives for the first time.
At the Grave of Marcel Proust, 1999
A Remembrance of Times Past, in Père Lachaise Cemetery.
At Jackson Lake Lodge, 2005
Celebrating Dick's 50th birthday by pixelating in Yellowstone and the Tetons, and being very happy. (Marianne had spent her 50th in Paris).
My Name in Lights at Yankee Stadium
Thanks to my daughter Kristin during a visit in Connecticut and New York.
With the Mongolian Poet, Galsan Tschinag
Welcoming Galsan to Salt Lake City in 2006, where Dick hosted him before he (Galsan) gave a reading.
With Some But Not All of the Children
Dick and Marianne in 2007 with (back row) Mike and Tiffani (Mike's wife) and Lisa (who married David Catmull in November of that year), and in front Juliana. Juliana is now married to Moätaz ("Mizo") Zezo, and Kristin (not shown here) is married to Mikle South.
Dick Wearing Fez in Fez
During a visit to Morocco (which a DNA tests tells us is an ancestral home) with brother Bob.
Taking the Train from Fez to Tangier, 2014
A memorable springtime journey through Northern Morocco's green fields (no, not desert). Dick then delivered a keynote address at an international conference in Tangier.
Meeting José Fuster in Havana
Or more accurately in Jaimanitas, José Fuster's suburban home, which he has decorated with his distinctive and colorful Gaudie-sque masonry and tilework. (Along with the rest of the neighborhood known as Fusterlandia.)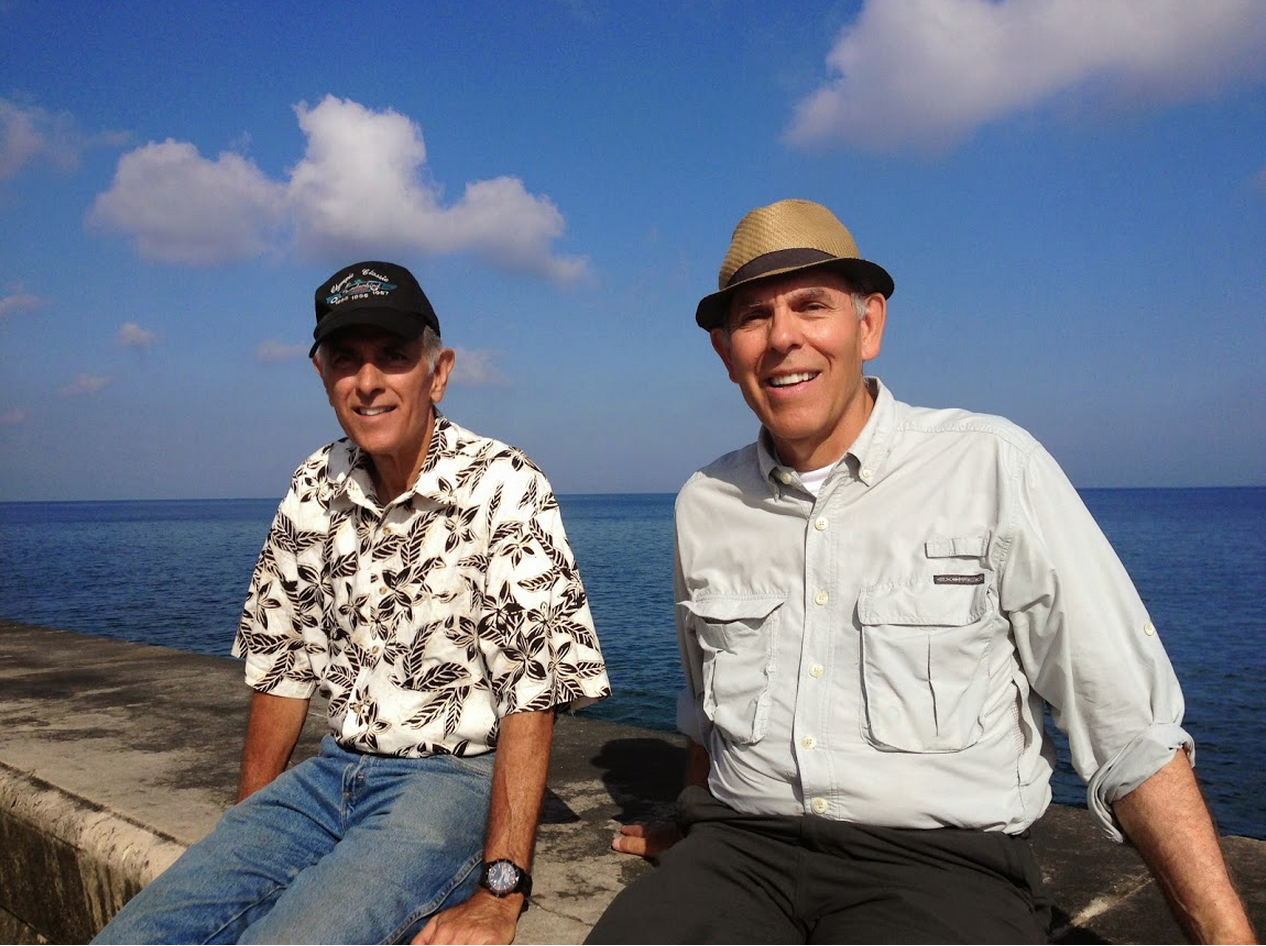 Dick and Bob on the Seawall at Havana, 2014
Two brothers on a once-in-a-lifetime adventure to a beautiful but neglected Caribbean paradise.
Bob and Dick at the Bay of Pigs
History was made here, in a bad way. A few months after this picture was taken, though, diplomatic relations between Cuba and the USA began to improve, thanks to President Obama and Raúl Castro.
Hacken Family Christmas, 2014
Some of Dick's children and some of their spouses and in-laws and children. Unfortunately, some are missing from the photo; but you get the "picture."
Carolina Hachen (née Galka) --> Nephi Rudolph Hacken --> Joan Carter Sainsbury (née Hacken) --> Various children --> etc.
Joan Sainsbury, née Hacken
Here's a shot of Joan at the Salt Lake Airport, taken so long ago that the commercial airliner behind her had propellers.
Joan and Dick, 1948
Together in a little red wagon at 2700 Northrop Avenue in suburban Sacramento, even before many other houses had sprung up.
Joan Head over Heels, 1949
Here Mom (Leola) holds Joanie upside down just for fun in the front yard.
1956 Backyard Campout
Joan is the one in the sun on the far right, smiling to beat the band.
Hacken, Jones & Ogilvie Reunion, 1959
Joan is in the middle of the front row among her cousins, fifth from left.
Hacken Family Gathering, 1992
At the gathering, with her children spread throughout the picture, Joan is on the far left (white blouse and darker vest).
Marrying a Daughter Off, 2000
A portrait of Joan and her family on the occasion of a daughter's wedding reception.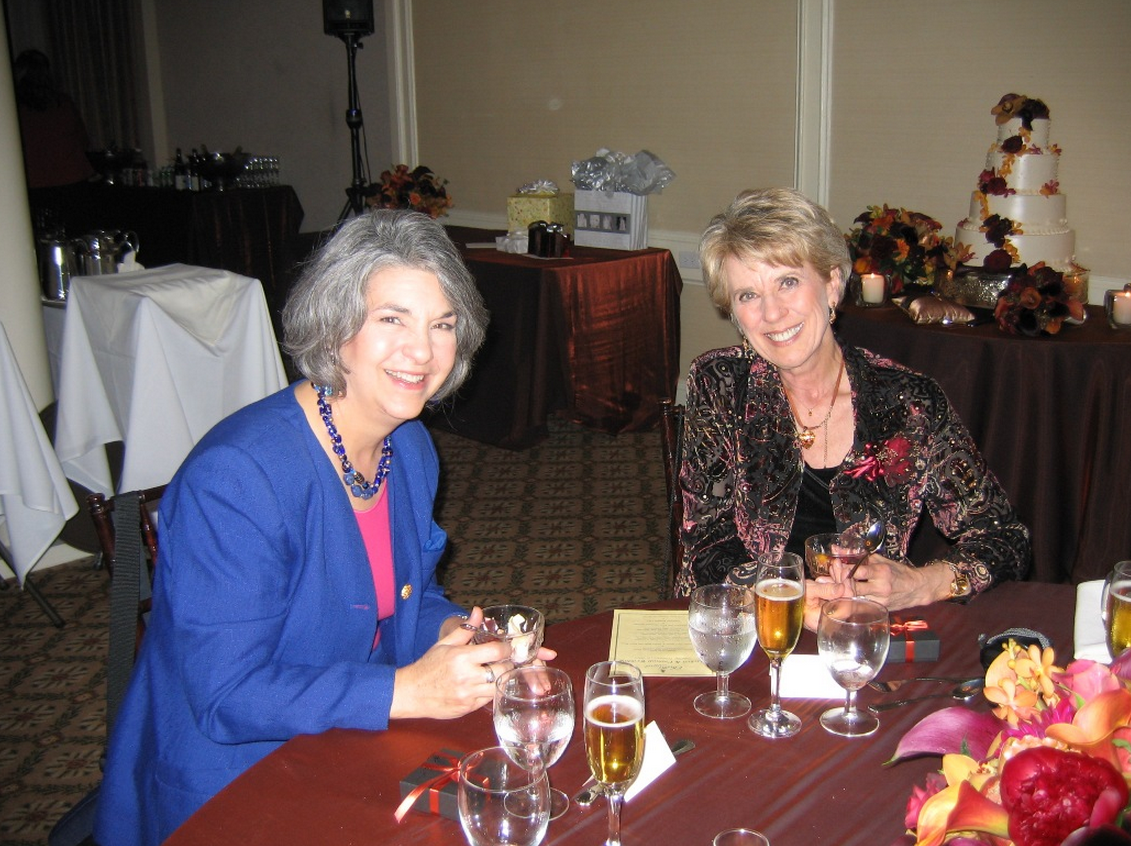 Joan and Marianne, 2007
In November of 2007, Joan joined the festivities when Lisa Hacken married David Catmull in Oakland, California.
Carolina Hachen (née Galka) --> Nephi Rudolph Hacken --> Susan Thornton (née Hacken) --> Christian Thornton --> etc.
Susan Thornton, née Hacken
Backyard Campout, 1956
Sue is in the shadows on the left.
Hacken-Jones-Ogilvie Reunion, 1959
Sue is in the front row, sixth from left, cocking her head to one side.
Piñata Party
In the mid-1970s, approximately, two of Dick's daughters, Kristin and Lisa, played with Sue's son, Christian (right).
Hacken Family Descendants, 1992
In this picture, Sue is in the back row, just right of center, behind her mother, Leola Jones Hacken, and between two nieces.
Carolina Hachen (née Galka) --> Nephi Rudolph Hacken --> Carolyn Dean (née Hacken) --> Robert Dean --> etc.
Carolyn Hacken Dean, 1955-1983
Carolyn Dean, née Hacken
Carolyn, the youngest child, was named after her paternal grandmother, Carolina [Galka] Hacken.
Backyard Campout, 1956
Since Carolyn was born in 1955, she was quite young in 1956, huddled here between her two older brothers.
Hacken-Jones-Ogilvie Reunion, 1959
Carolyn was so shy at the reunion in Liberty Park (Salt Lake City), that she faced away from the camera in her mother's arms (right right)..
Hacken Family Descendants, 1992
Carolyn died in 1983, but in this 1992 picture her husband Richard Dean is in the second row, right of center (blue shirt), and her son Robert Dean is on the far right (red shirt).
Robert Dean, 1992
In a closeup from the previous picture, this is Robert Dean, Carolyn and Richard's son, in 1992.
Robert Dean and his wife, 2014
Robert Dean now has a family of his own and works at Sierra College in the foothills of the Sierra Nevada Mountains of California.